My Experience At A Russian-Turkish Spa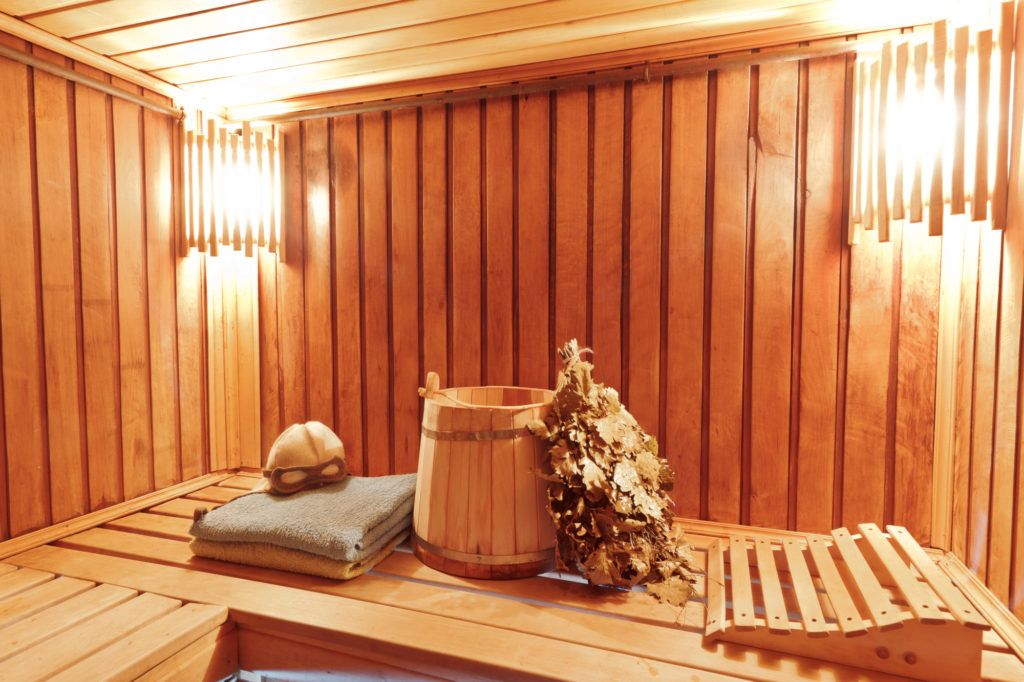 When is the last time you relaxed?
As April is Stress Awareness Month, I made plans with friends to recharge.  We've all been feeling stressed and choose to relax by going to a Russian-Turkish Bathhouse.  Personally, I've never been to one before, but one friend in our group had and volunteered to show us around. Inspired by my experience, I wanted to share it with you.
Russian-Turkish Spa: A full sensory experience
I've been to spas, hot springs and saunas all over the world, including the Bozeman Hot Springs in Montana, Blue Lagoon in Iceland and natural hot springs throughout New Zealand and Hawaii, but none of those experiences compared to my recent day with friends at the Russian-Turkish Spa in my own backyard of Philadelphia, PA to honor April's Stress Awareness Month.
Entering the spa (called a banya in Russian), we paid for admission (a reasonable $35) and checked our personal belongings into mailbox-sized security boxes behind the front desk where our cell phones and wallets were conveniently exchanged for locker keys to store our larger items. We proceeded to our gender-assigned locker rooms to change into our swimsuits and store items like shampoo, conditioner and a fresh change of clothes.
Within ten minutes we changed and reunited outside the locker rooms into what is commonly called the entrance (or predbannik in Russian).  The manager excitedly greeted us, welcoming us to fresh towels and large white robes.  We picked up fresh towels, cruising by the pool and two hot tubs before entering a long hallway chuck full of towel hooks, showers, cooling pools and labeled wooden doors.
Hanging our robes, we soaked our towels in cool shower water, prior to wrapping them around our heads. Our friend, who frequents this spa, informed us of the importance of protecting our heads when exposed to extremely hot temperatures. Traditionally, pointed felt hats are worn to protect the head, and are for sale for around $20 onsite. Not owning felt hats, we opted for a homemade version of head protection. After wrapping our heads with our wet towels, we entered the hot banya where temperatures exceed 199 degrees Fahrenheit (93 degrees Celsius)! If you think for a moment your butt might burn sitting on such a hot surface, wooden slats are available to place under yourself for added comfort; I didn't hesitate to grab one.
Closing the door behind us and taking a seat, the heat was palpable.  Within 30 seconds, sweat beads gathered on my body and soon sweat dripped across my shoulders and down my back. Sweating, I turned my attention to my breath, encouraging myself to breathe slowly and not too deeply in order to avoid burning my nose, throat and lungs. I then turned my attention to my feet on the floor and my body on the seat in order to stay grounded and not panic is such an extreme climate.  Together my friends and I talked and shared events of the week, while detoxifying our sweat glands… and everything else.
Sitting in such hot climate, I could feel my heart rate rise and my breath become shallow.  I wasn't alone in my full sensory experience. When we hit our threshold for hot heat submersion, we carefully exited the banya and proceeded to the cool pool. Independently we jumped in, feeling our breath get sucked from our bodies.  I have no idea how cold the water actually was, but it felt around the freezing point.  My friend encouraged me to tread water in the cool pool for 20 seconds, but 12 seconds was my breaking point.  I climbed out numb and simultaneously on fire.  My hands and feet felt cold – the kind of numbing cold you experience when you've been outside in freezing temperature for too long.  My body raced with adrenaline while my blood pulsated.  I could actually feel my blood rushing through my body while my blood capillaries flooded on the surface of my skin. Suddenly my body felt tingly all over, and I was overcome with a sense of invigoration.
"Ready for some more?" our friend inquired while letting us know several rounds of hot/cold are encouraged.
Soaking our towels under cool water shower heads, we re-wrapped our heads in wet towels and re-entered the hot banya.  The second time we were able to stay a bit longer, but as our heart rates arose and breath became shallow once again, we exited the hot sauna, removed the towels from our heads and jumped feet first into the 5 ft deep pool of penetrating ice cold water. Twenty seconds later, we each emerged and began round three.
Feeling fatigued after three rounds, we walked down the hall and entered a wet, hot steam room. Sitting together we relaxed and gave permission to our bodies to unwind.
Other patrons entered and exited the steam room and everyone appeared to be in their own state of relaxation.  Some women appeared to be strictly enjoying the steam room as their skin appeared fair and unmarked with bright shades of red (like our own), while other patrons rounded between hot saunas and cold pools before enjoying a steam.
As we enjoyed the company of one another, a man and woman entered the steam room with a bucket. As the woman laid down on the bench, the man reached into the bucket and emerged with handfuls of an earth-scented brown scrub, exfoliating her entire body prior to rinsing her off. Curiously, I sat and watched, intrigued by this man's attention to his partner. At that moment I realized my own appreciation for the environment I was in because here, in the Russian-Turkish Spa, people felt free to relax and fully unwind.
After about 25 minutes in the steam room, we felt hungry and in need of nourishment.  Re-entering the predbannik (entrance room), we secured a table, grabbed menus and ordered lunch.  The menu was extensive, providing options for more traditional meals (beef tongue) to American appetizers (chicken tenders) and fresh salads.  Additionally pots of green, rose or peppermint tea, freshly squeezed orange juice, water and traditional Kvass (made from fermented bread) were available to enjoy. I found that ordering freshly tossed Greek salads, hand-squeezed orange juice and a pitcher of Kvass was the perfect way to recharge.
Before we knew it, it was time leave for the evening.  While we each wanted to stay longer, prior commitments forced us to shower, change and proceed to the car.
The afterglow
On the ride home I felt relaxed and my mind wandered.  I reflected on April being Stress Awareness Month and what honorable work I did for my body today.  Every muscle in my body felt relaxed and each hot/cold rotation aided my body in letting go of what it didn't need – emotional, psychological and physical junk leftover from weeks of stress.
I was impressed with how balanced I felt mentally, emotionally and physically.  While the extreme temperatures of the Russian-Turkish Spa were uncomfortable, the purging of toxins through exposure of extreme temperatures and some much needed time with friends awakened my carefree spirit, giving me the ultimate permission to let go and reset.
I felt energized.
That evening I met my boyfriend for dinner before catching a concert in downtown Philadelphia. I told him about my experience at the Russian-Turkish Spa.  His initial response was one of intrigue and hesitation (as was mine prior to my own experience at the banya). Midway through dinner he commented on how I was "glowing" and how "relaxed" I looked.  I reflected on what he said and realized he was right.  Not only did I feel relaxed and at peace, but I felt a sense of carefree glow, both internally and externally.  My boyfriend wasn't the only one to comment on how "relaxed" and "glowing" I looked that night either.
I can't help but think the Russian-Turkish Spa had more of an impact than I even anticipated. With April being Stress Awareness Month, I vowed to do something good for myself. My full sensory experience at the banya exceeded my expectations, leaving me feel more balanced than ever.
Despite my initial trepidation, I'm looking forward to returning.
I've never felt more balanced.
If you plan to visit a Russian-Turkish Spa…
Bring flip flops (although communal shoes are available you might want your own).
Remember fresh undergarments (unless you don't mind sitting in a wet swimsuit for the commute home).
Consider bringing toiletries (although you can always shower at home afterwards).
Drink lots of water the night before and the morning of.  Hydration is critical to having a pleasant day.
Try the Kvass (the alcohol content is mild and the drink is tasty).
Eat something light.
Plan to spend the day at the banya and resist the urge to schedule something later in the day.  Trust me, you will want to soak in all the goodness of your experience at the Russian-Turkish Spa.
Plan to go back… again and again. April might be Stress Awareness Month, but the spa is open year-round.
Taking time to recharge is important.
No matter who you are and what you do to earn a living, releasing stress from your body (and mind) improves mood, aids in immune system recovery and boosts cognitive processing. While having a regular way to reduce stress and recharge is ideal, if two hours (or 20 minutes) a week or a month is all you can manage, having an abbreviated practice is better than no practice at all!
If you haven't done something to unwind recently, consider what activity would help you reduce your stress. Isn't it about time you did something good for yourself? April is Stress Awareness Month, but having a stress reduction routine will benefit you all year round. If you're struggling with getting a stress management routine in place, consider contacting Cope Better Therapy Services for additional support.  I'm here to help!