Coping with Cancer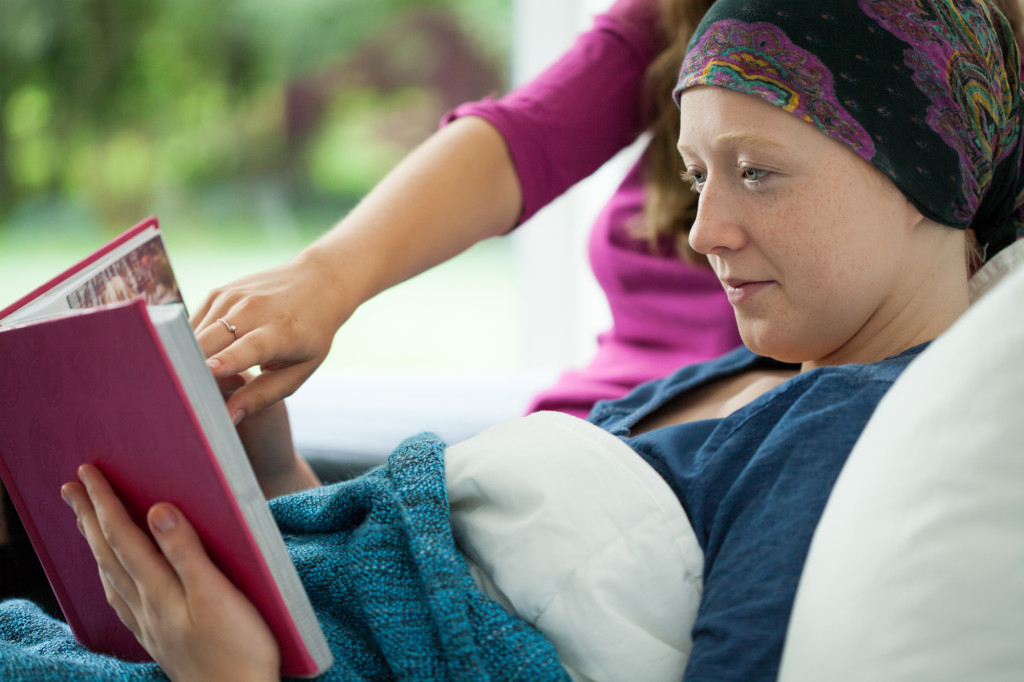 Have you recently been diagnosed with cancer?
One in 10 American households now includes a family member who has been diagnosed or treated for cancer within the past 5 years, while 41% of Americans can expect to be diagnosed with cancer at some point in their life.
When the doctor enters the room, no one expects to hear, "You have cancer."
After receiving the diagnosis, the next few weeks (or even months) can feel like a blur.  Suddenly you're swept into panic mode, meeting with specialists, searching the Internet for information, comparing notes with family/friends/cancer survivors and getting recommendations on treatment options.
Starting treatment as soon as possible becomes a priority and provides a sense of security because you're finally doing something about it.
After the initial sense of panic and urgency fades, the reality of the enormity of the diagnosis starts to set in.
You're suddenly out of panic mode and committed to a three, six or a nine month treatment plan.  One day it hits … I have cancer. I. Have. Cancer.

The physical side effects of cancer.
Physical side effects of cancer are real and vary person to person. If you're reading this page you're likely (all too) familiar with the list below:
Body aches
Hair loss
Vomiting
Fatigue
Nausea
Changes in appetite
Hot flashes
Scarring
Dry mouth
Difficulty sleeping
Mouth sores
Forgetfulness
Skin burns
Taste changes
Vaginal dryness
Pain during sex
Skin discoloration
Pain
Erectile dysfunction
Neuropathy
Difficulty sleeping
Diarrhea
Constipation
Bone pain
Sometimes the disease itself causes these symptoms, while other times the treatment causes the symptoms. Between taking countless medications and running from one doctor to the next, the goal becomes to get through another hour, day, week or treatment cycle.
When physical symptoms begin to interfere with your ability to work, parent or engage in activities that bring joy, it's not uncommon for mood changes to occur.
The emotional and cognitive side effects of cancer.
The emotional and cognitive changes (as a result of coping with cancer) vary in severity, frequency and range. A list of common emotions includes:
Worry about the future
Inability to plan too far ahead
Anxiety
Fear
Anger
Frustration
Depression
Suicide
Feeling overwhelmed
Feeling embarrassed
Self-isolation
Questioning life choices
Questioning your relationship with God
Helplessness
Hopelessness
Coping with cancer looks different for everyone because everyone is different and everyone's body responds differently.
If you're having a difficult time coping, having emotional support during treatment is just as important as taking medication to manage symptoms and choosing a treatment designed to shrink your tumor.
While emotional support can take the form of talking with friends, discussing concerns with your significant other, talking with other cancer survivors (or those in treatment) or meeting with members of your church, including clergy, many patients find counseling to be the most helpful and positive form of support.
A licensed therapist is the best form of support because they are trained in helping individuals cope with an array of mixed emotions and thoughts related to coping with a chronic illness. Therapists can also address quality of life concerns frequently unaddressed in a medical setting.
Ultimately, let your caregivers be caregivers and seek a licensed therapist to help you find emotional balance and improved mental health during this incredibly challenging time in your life.
My experience in oncology.
For nearly 8 years I worked at Cancer Treatment Centers of America (CTCA) as a Mind-Body Medicine Therapist.  I worked with cancer patients as young as 19 and those into their 80s.
I counseled college students, newlyweds (young and older), new parents, single parents, new grandparents, and retirees.
I saw every diagnosis from colon cancer to breast cancer, ovarian cancer, head and neck cancer, thyroid cancer, brain tumors, cancer of the unknown primary, stomach cancer and appendiceal cancer.
I learned cancer is non-discriminatory. It doesn't care who you are or what your goals are for the future because it's hungry. Cancer is hungry for your body, your time and your energy right now.
For some patients, CTCA was their first choice when seeking comprehensive cancer care, while other patients came to CTCA after being told they had less than 6 months to live.
Irrelevant of age, occupation, household income or the stage of a particular cancer diagnosis, I've worked with people from all over the world as they navigated cancer treatment.
Each patient taught me something new about what it meant to have cancer and have cancer change them. While some individuals believed their diagnosis was "a wake up call" or "a blessing," other individuals struggled to make sense of it.
"How could this happen to me?"
"I just hit retirement and now I have to spend it in treatment!"
"I just got married, how can I have cancer?"
"What about my children? Who is going to take care of them?"
These are just a sampling of the concerns experienced by people living with cancer.
Feeling worried while living with cancer is normal. Feeling anxious about living with cancer is normal too. Feeling angry, depressed and concerned about your future or your family's future is also normal.
You're facing a life-changing event. It's okay to reach out for extra help right now.
What does it mean to cope with cancer?
Coping with cancer is finding balance in the every day.
Between appointments and treatments you have a life to live.
What do you want to do?  How can that happen?  What's realistic for you today? What's realistic for you tomorrow? Where do you want to find better balance? Are you asking too much of yourself?
Coping with cancer is accepting where you are right here, right now.
Are you holding yourself to an unrealistic standard? Are you quietly judging your emotional experience in response to your diagnosis? Are you having a difficult time staying present? Are you feeling so overwhelmed with your physical symptoms you feel too stressed to do anything else?
Coping with cancer is accepting the present and redefining the "new normal."
You have goals, but in order to get there, focusing on the here and now is important.  Smalls steps fuel big goals. What are you doing today that supports your future goals?  Are you acknowledging how you are supporting yourself, your body, your family and your goals?
When stress is high it's easy to focus on the negative and in doing so forget about what you ARE doing today… right now.
Are you ready?
Coping with cancer is hard, but you don't have to do it alone.  Let's work together to get you back on your feet. Your goals are my goals.  I want to meet you where you are and take steps forward together.
If you're feeling too sick to leave home or too fatigued to get to another appointment, that's okay.  For oncology patients I provide therapy through Cope Connect  so you can remain in the comfort of your home. Regardless of where you live, I can provide counseling to you. 
Contact me and let's get started.  I'm here for you.